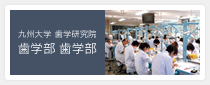 〒812-8582
福岡市東区馬出3-1-1
九州大学大学院歯学研究院
口腔保健推進学講座
口腔予防医学分野




| | | |
| --- | --- | --- |
| | | 092-642-6353 |




| | | |
| --- | --- | --- |
| | | 092-642-6354 |







2014.06.04
2014年度<研究助成取得状況>を更新しました。
・平成26-28年度 文部科学省 若手研究 (B)基金 代表(古田美智子)
「性差歯科医療確立のための歯周病とメタボリック症候群における性差の検討」
・平成26-27年度 文部科学省 若手研究(B)基金 代表(坪井秀憲)
「FISH法を用いたデンタルプラーク構築過程の解明」
・平成26-28年度 文部科学省 基盤研究(C)基金 代表(山中 渉)
「口腔マイクロバイオーム解析に基づく新規口腔ケア指針を確立するための基盤研究」





2014.06.04
2014年度 <業績>を更新しました。
1. Dan L, Shibata Y, Takeshita T, Yamashita Y.
A Novel Gene Involved in the Survival of Streptococcus mutans under Stress Conditions.
Appl Environ Microbiol. 2014 Jan;80(1):97-103





2014.06.04
2014年度 スタッフ名簿を更新しました。
スタッフのページをご覧ください。




2014.01.14
2013年度<著書>を更新しました。
3.山下喜久
平成23・24年度普及委員会(児童虐待防止へのかかわり)における検討の概説
日本学校歯科医会会誌 144(1):46-48, (2013).




2014.01.14
2013年度<業績>を更新しました。
3.Furuta M, Shimazaki Y, Takeshita T, Shibata Y, Akifusa S, Eshima N, Kiyohara Y, Ninomiya T, Hirakawa Y, Mukai N, Nagata M, Yamashita Y. Gender differences in the association between metabolic syndrome and periodontal disease: the Hisayama Study.
J Clin Periodontol. 40(8):743-52 (2013).
4.Kawada-Matsuo M, Oogai Y, Zendo T, Nagao J, Shibata Y, Yamashita Y, Ogura Y, Hayashi T, Sonomoto K, Komatsuzawa H.
Involvement of the novel two-component NsrRS and LcrRS systems in distinct resistance pathways against nisin A and nukacin ISK-1 in Streptococcus mutans.
Appl Environ Microbiol. 79(15):4751-5 (2013).
5.Fujinaka H, Takeshita T, Sato H, Yamamoto T, Nakamura J, Hase T, Yamashita Y.
Relationship of periodontal clinical parameters with bacterial composition in human dental plaque.
Arch Microbiol. 195(6):371-83 (2013).
6.Furuta M, Komiya-Nonaka M, Akifusa S, Shimazaki Y, Adachi M, Kinoshita T, Kikutani T, Yamashita Y.
Interrelationship of oral health status, swallowing function, nutritional status, and cognitive ability with activities of daily living in Japanese elderly people receiving home care services due to physical disabilities. Community Dent Oral Epidemiol. 41(2):173-81. (2013).
7.Yamane K, Ayukawa Y, Takeshita T, Furuhashi A, Yamashita Y, Koyano K.
Bacterial adhesion affinities of various implant abutment materials.
Clin Oral Implants Res. 24(12):1310-5 (2013).
8.Kawato T, Tanaka H, Tabuchi M, Ooshima K, Nakai K, Yamashita Y, Maeno M.
Continual Gram-negative bacterial challenge accelerates stroke onset in stroke-prone spontaneously hypertensive rats.
Clin Exp Hypertens. 35(1):28-34 (2013).
9.Furuta M, Yamashita Y.
Oral health and swallowing problems.
Curr Phys Med Rehabil Rep 1:216–222, (2013).